#ANevisMinute
Win A Trip To Nevis!
Win a chance to escape to the naturally enchanting Caribbean Island of Nevis for your #NevisMinute! The Nevis Tourism Authority will be choosing one lucky winner to receive a round trip flight to Nevis as well as 3-night stay at the Four Seasons and a 3-night stay at Golden Rock Inn.
To enter this giveaway, please follow @nevisnaturally, @fsnevis, and @goldenrockinn on Instagram, like Nevis' billboard post on Instagram, tag a friend in the comments (each comment is an entry). For 10 extra entries, snap a picture of yourself in front of Nevis' billboard in Times Square and upload your photo using the hashtag #ANevisMinute.  The address is: 1500 Broadway Spectacular New York, NY.
The winner will be announced on February 10th on our social media pages. We can't wait to see you on the island!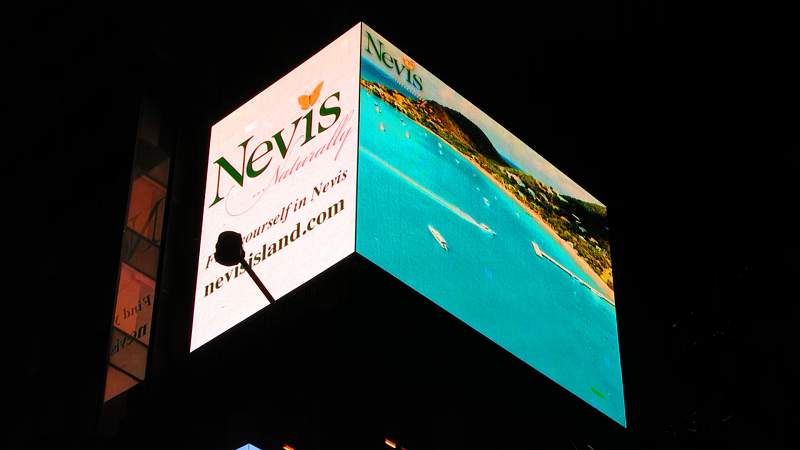 This giveaway is open from November 9, 2022 and will run through January 31, 2023.
Terms & Conditions
Participants must be 21 and over to enter the giveaway, must be a U.S. resident, and possess a valid passport. The giveaway is open from November 9, 2022 and will run through January 31, 2023. The winner will be announced via our social media pages on February 10th, 2023 and will be contacted by Nevis Tourism Authority via social media to confirm age and additional requirements. The winner will receive a trip to Nevis for two (2 roundtrip flights from the US to St. Kitts and a water taxi to Nevis and hotel transfer) in addition to the 6 night/7 day stay at the participating hotels (Four Seasons and Golden Rock Inn – blackout dates and restrictions apply). The trip is valid for a year from the time the award is received, until February 10, 2024.
Also view our Privacy Policy